Freddy's Menu
Burgers
We have Catering and Takeout. Call for more info.
Hand pressed 8 oz burger made with gluten free ingredients. Char-grilled.  Served on a brioche bun with lettuce, tomatoes, picklea & onions.
Served with your choice of one of the following: fresh hand cut fries or a cup of soup du jour or our house made curry rice.
Upgrades available see below.
AGF Maria Burger $16.00
Add cheese $1.50
AGF Mushroom $18.50
Sautéed mushrooms, mozzarella
AGF Smoker $19.00
Smoked hickory spices, grilled tomato, cheddar, crispy bacon
AGF Freddy's $18.50
For the true garlic lover! 8 oz cheeseburger topped with toum
AGF Mexican $18.50
Jalapenos, spicy mayo, hot sauce, cheddar
AGF Bacon $18.00
Crispy bacon, cheddar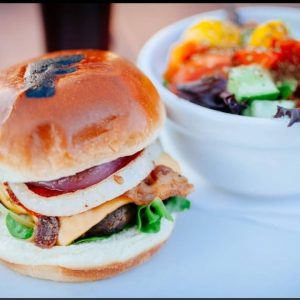 SUBSTITUTES (one per meal)
House $2.00 Greek $4.00 Fattoush $4.00 Sweet Potato Fries $4.00 Poutine $4.00